Bar-V-Nook Manor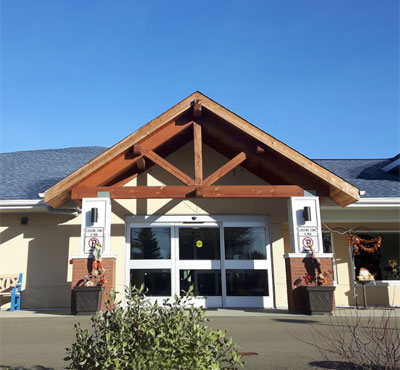 Bar-V-Nook Manor is a modern, gracious – and growing – supportive living home located in the town of Smoky Lake, Alberta. A 60-unit expansion is scheduled to open in 2018, and will allow Bar-V-Nook to welcome residents needing higher levels of care, while continuing to provide a supportive living environment to seniors who live independently.
The name 'Bar-V-Nook' is derived from barvinok, a Ukrainian periwinkle symbolising faithfulness, and living in peace throughout the seasons of life. The rich cultural history of the surrounding community and farmland is reflected in many aspects of day to day life at Bar-V-Nook Manor.
The Bar-V-Nook kitchen team produces excellent meals and snacks, much of it a cultural tribute to residents' traditional foods. The dining room is bright and cheerful with windows looking out to the grounds. Four enclosed courtyards provide a well tended and sheltered spot to enjoy the outdoors.
Bar-V-Nook Manor is an easy walking distance from the town centre with its pharmacy, grocery store, post office, restaurant, drop in centre, and churches. And Bar-V-Nook's recreation coordinator gets active and creative alongside residents, with exercises, games, activities and outings, as well as organizing guest performances and coordinating visits from school and cultural groups.
Accommodations:
40 studio suites, each equipped with a kitchenette including sink, cupboards, and space for a mini fridge. Each 350-ft2studio suite is suitable for either a single resident or a couple.

With the 2018 expansion, 24 new one-bedroom lodge suites and 24 new studio lodge suites will be available for residents who are able to live independently. There will also be 8 one-bedroom and 4 two-bedroom independent supportive living apartments with full kitchens. These suites will include a fridge, stove, and dishwasher. The 41 pre-expansion studio suites will become designated supportive living (DSL4) and memory care (DSL4D) accommodations.

1 respite or visitor suite
Modern security system
Onsite laundry
Parking
Covered scooter parking
Exercise room/spa
Services provided:
All meals and snacks
Non-personal laundry (linens)
Light housekeeping
Emergency response system
Recreation and social opportunities
Services available for an additional fee:
Personal laundry
Vehicle plug in (winter)
Hairdresser
Internet, telephone and/or cable TV
Some recreation activities or outings
Pets: Pets may be considered with the approval of the General Manager
Smoking: Smoking is allowed in specific areas only, not in suites or common areas.
Application Process:
Dementia Care (DSL4-D) applications are arranged through Alberta Health Services, and must meet AHS criteria. Call Health Link (dial 811 within Alberta) for support, direction and referrals.
Independent Supportive Living accommodations at Bar-V-Nook Manor are based on priority of need, and rates are based on the Alberta Provincial Affordable Housing Strategy.

To apply for Independent Supportive Living accommodations at Bar-V-Nook Manor, you will need to provide all of the information on the following forms. You may download the forms here, pick them up at Bar-V-Nook Manor, or phone or email to request they be mailed to you:
Application Form (download and print Application form)

Current Income Tax Notice of Assessment will be required to determine rental rate

Medical Form – to be completed by your physician
Arrange an appointment with the Vilna Lodge General Manager to review your completed Application Form (including Income Tax Notice of Assessment) and Medical Form.
Contact Information:
Address: Bar-V-Nook Manor, 4524 52 Avenue, Smoky Lake, AB Canada T0A 3C0.
Phone: 780-656-4217
Website: http://www.smokylakefoundation.ca
Email:  bvnmanager@smokylakefoundation.ca